Chiropractor Huntington NY
Welcome to Balance Chiropractic & Wellness Center! Dr. Deborah Genin has been providing Chiropractic in Huntington since 2008. We use state of the art techniques that are proven to reduce pain and inflammation, restore the balance in muscle, nerve and spinal function and improve range of motion and flexibility. Unlike conventional medicine, which puts focus on trying to treat diseases once they already exist in the body, the staff at Balance Chiropractic emphasizes better health by improving and maintaining a pain free and illness free body.
An increasing number of people are seeking an alternative to traditional medicine for their health concerns and are seeing the benefit of having optimal health. We would like to invite you to come in and meet our Huntington Chiropractors and take a look at our services and we will cater a wellness program that specifically addresses your individual needs.
If you're looking for a top Huntington chiropractor that provides family chiropractic care we are here to help. It's also a bonus that most insurances are accepted. Today many people are searching for a "chiropractor near me". We hope to be your first choice. Also, don't forget to click on our New Patient Special. It's a great way to test drive our services.
Balance Chiropractic and Wellness Center
We are conveniently located on New York Avenue, approximately a quarter mile north of Main Street in the Huntington village. We are on the first floor of the Green house which is on the right hand side of the street when heading North, just before Heckscher Park/Prime Avenue. There is parking on the side of the building.
We love everything that Huntington has to offer. We chose this location for our practice because of it's a wonderful city to live, raise a family and it's a close-knit community. There is great access to the Long Island Railroad and buses, we are within walking distance to a beautiful park and Art museum and also the village is probably the best town in all of Long Island, with its shops and boutiques, restaurants and culture.
What sets our office apart from the other chiropractors in Huntington is our spa-like atmosphere. We keep the lights low, have serene music playing and really feel we have a safe haven for people to come and de-stress from the everyday hustle.
Each treatment room is private and our staff is friendly, accommodating and welcoming. We have been told that our office feels very comforting and relaxing and our patients really enjoy their visits and feel calmer when they leave. We also provide deep tissue and focused massage with all of our patients and therapies during each visit in addition to chiropractic adjustments. Our hands-on approach and quality of care sets us apart from the rest.
OFFICE HOURS
Monday
10:00am - 1:00pm
3:00pm - 7:00pm
---
Tuesday
12:00pm - 7:00pm
---
Wednesday
10:00am - 1:00pm
3:00pm - 7:00pm
---
Thursday
12:00pm - 7:00pm
---
Friday
10:00am - 1:00pm
3:00pm - 7:00pm
---
Saturday
By Appointment
Balance Chiropractic and Wellness Center
198 New York Avenue #1
Huntington, NY 11743
(631) 470-9670
HOW TO FIND A CHIROPRACTOR IN Huntington
This guide will help you find the best chiropractic clinic in Huntington for you. When most people in Huntington decide they need a chiropractor, they end up doing a search and just picking someone at the top.
Being at the top of Google for the chiropractic search does not necessarily mean they are the best chiropractor for you. Follow the steps below to make sure you are picking the right chiropractor for you.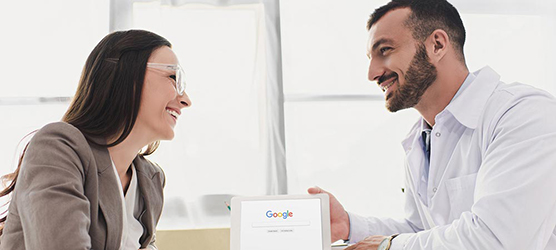 Time Needed: 5 minutes
Total Cost: USD 0.00
4 EASY STEPS TO FINDING A CHIROPRACTOR IN Huntington
Step 1: Open up a Google search
You will want to type one of the following in the search bar:
Chiropractor Huntington
Chiropractor 11743
Chiropractor near me
Best chiropractor in Huntington

Step 2: Review Their Website
The best chiropractors in Huntington put as much care into their website as they do into the rest of their office. By reviewing their website you will get a good feel for the doctor and if they are right for you.

Step 3: Check Out Their Reviews
Check out the Google Business Page of a chiropractic clinic you are thinking about visiting. It is easy for someone to say they are great, it's a different story to get other people to say great things about you.

Step 4: Give The Office A Call
Now that you have a basic understanding of what the office is about. Give them a call to make sure they fit the message that their website and GMB have been sending. You will know in a few minutes whether the office is the right one for you.